Cumming GA Water Heater Repair and Installation
Is your water heater leaking, broken or not producing hot water? Call Cardinal Plumbing Company at (678)-577-8672 for fast and efficient water heater services today!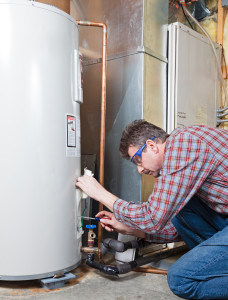 Your water heater is one of the most essential components in your home. It provides hot water for washing, cooking, laundry, and more. Turning on the faucet only to find cold water is very inconvenient. Our technicians will get to you quickly to have the hot water flowing again soon.
Cold water or a giant puddle? Both are major signs that you need to replace your water heater. But there are less obvious signs too. Is your water heater noisy? This could be a sign of sediment or a dying heating element. Another sign your water heater is on borrowed time is corrosion and rust on the unit. The average water heater lasts between 8-10 years. If your water heater is getting close to this age, it may be time to have it replaced or have maintenance performed. Call now to schedule an appointment with us before your water heater fails and let our technicians help you make the most economical choice for your family.
Most homes have a 40 or 50 gallon water heater that is natural gas or electric. Cardinal Plumbing Company services all types and sizes of residential and commercial hot water heaters. Call us now at (678)-577-8672 or click here for our latest deals.